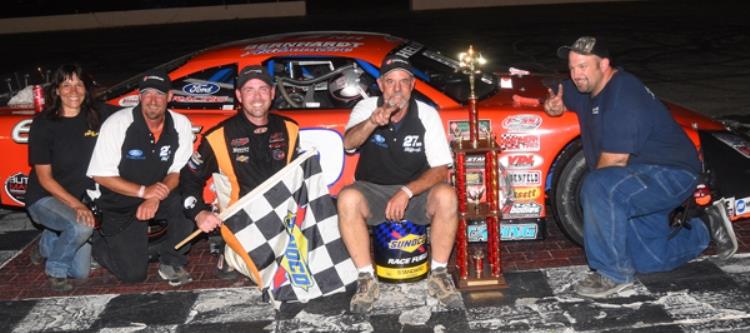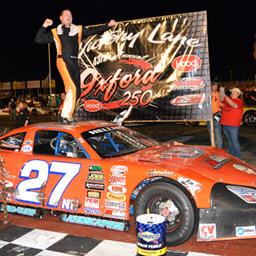 8/24/2016
Wayne Helliwell Jr
---
Focused
With the 43rd Annual HP Hood Oxford 250 upon us Wayne Helliwell Jr. and the Bruce Bernhardt Team shift all focus to the prize at hand, a possible $50,000 prize at that. After back-to-back trips to victory lane at the famed Oxford oval the Team is posed to make a run at the most prestigious victory in New England Motorsports. Something Helliwell has been chasing for more than two decades.
The Pelham, NH based Team will shift all focus and dedication to just one car this weekend. Even with a scheduled American Canadian Tour points event Saturday night they have decided not to compete in the ACT race. Mathematically still alive for the his 4th ACT title, the Dover, NH pilot feels where he stands after a struggling season by his standards; they should concentrate on the big prize and compete on Sunday only.
"We talked about it and decided to put all our focus on the 250," said Helliwell. "We're 5th or 6th in points there [with ACT] and have been putting so much effort into our super late model program that we needed to focus on one car for the weekend. We're a small Team with one trailer… It made sense based on where we stand if we were serious about Sunday."
While the ACT late model may be parked for the weekend, the new primary sponsor on it for 2016 will not; Rydemore.com will join longtime partner Ekeys-4-Cars on the quarter panels for the famed event. As the two companies share the primary sponsor role on the signature bright orange 27nh. Something both Helliwell and Bernhardt are proud of.
"Jim [Broadhurt with Ekeys-4-Cars] has been instrumental with supporting us," said Helliwell. "Ekeys [4-Cars] has been as much a part of this Team as any one thing… Even back to last year with all the testing trips we did to Oxford [for the 250]. His support of this Team has been second-to-none. Through all the years and even after he wanted to cut back he's been a huge help to our program. It was really his decision to cut back this year that lead us to Rydemore [Heavy Duty Truck Parts]. So to have both companies on the rear quarter panels for the 250 couldn't be better.
Helliwell who's a regular mention as a favorite to win after leading a race high 145-laps in the 2015 Oxford 250 and has picked up back-to-back Pro All Star Series victories at Oxford in 2016, laughs it off at the possibility of a career defining win.
"No pressure, right… We all joke that my worst track has become my best track," said Helliwell. " We've had some decent runs over the last five-or-six seasons there. But it was never a place I liked racing. It's took me most of my racing career to do just that… You know after last year's 250 and wining the [two] PASS shows we have high expectations. Higher than we've ever had in the past. I feel like if we don't beat ourselves we have as-good-a-chance as anyone. The car has been really good. We need to just pay attention to our program and do our thing."
The marathon of practice starts Friday afternoon with the all-important draw for heat race starting position Sunday at 12:30pm. Racing starts at 1:30pm.
Next Event
What: The HP Hood Oxford 250
Where: Oxford Plains Speedway – Oxford, ME
When: Sunday August 28, 2016 – 1:30pm
Wayne Helliwell Jr. and Bernhardt Motorsport's would like to thank their proud partners: Rydemore.com • EKeys-4-Cars • Unique Ford • Bernhardt Automotive • Pro-Turf Landscaping • DTB Tax • C&M Distributing • Harpoon Brewery • Butler MacMaster Performance Racing • Spectro Performance Oils • IICCEEE • Ford Racing • Schoenfeld Headers • Sunoco Race Fuels • Bassett Wheels • Joes Racing Products • Quarter Master • ARP Bodies • Welded Media • Mangus Transmissions • Coastal Candle Company • VDL Fuel Systems • PEM Racing Gears • KRC Power Steering • DRP Performance Products • Firestorm Graphics • W.A.R Shocks • Allstar Performance
Follow Wayne:
https://www.waynehelliwelljr.com
https://www.facebook.com/WayneHelliwellJr
https://twitter.com/#!/WayneHelliwell
Follow Welded Media:
https://www.facebook.com/pages/Welded-Media/436955476374206
https://twitter.com/WeldedMedia
http://www.normmarx.com/ Photo
---
Article Credit: Jason Lubin / Welded Media
Submitted By: Jason Lubin
Back to News