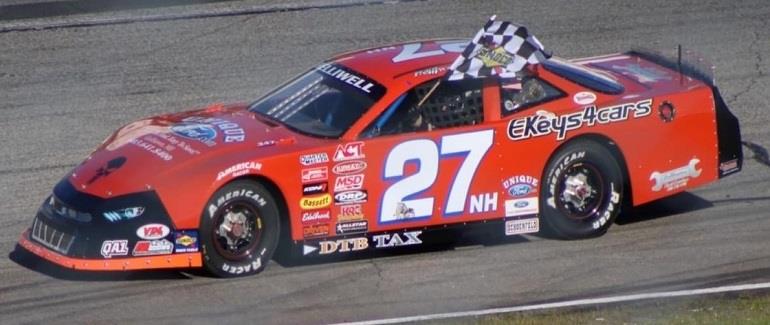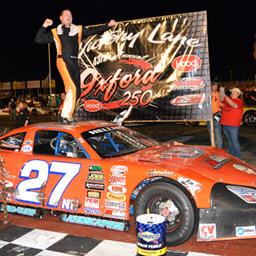 6/30/2020
Wayne Helliwell Jr
---
Double Down: Helliwell sweeps the weekends action
In what felt like a throwback weekend, Dover, New Hampshire's Wayne Helliwell Jr., and the Bruce Bernhardt owned Team won back-to-back races in late model competition. Grabbing the victory Saturday in the Little Webb's 75 at Star Speedway and capping the weekend Sunday afternoon with the American Canadian Tour, Oxford 150 at Oxford Plains Speedway.
Long time motor-sports writer Travis Barrett tweeted out during Sundays ACT action that the race "felt like 5-7 years ago" as Joey Polewarczyk and Helliwell had pulled away with 50-laps to go, to an insurmountable 10-second lead over the remainder of the field. That thought was certainly felt at the conclusion to Sunday's race as the familiar bright orange 27NH was in victory lane for the first time at the famed 3/8" mile Oxford Plains speedway since the 2016 Oxford 250.
"It was a fun weekend, stated Helliwell. The car was so good today, I was just trying to not spin the tires and save all I could. It Just felt good to feel good, both me and the car".
That old-school vibe of double or even triple header weekends, has been a thing of the past in recent years. Rolling back the clock seven years… 2012, the Ekeys-4-Cars Ford Mustang, raced a combined 38-times. Competing in weekly action across New Hampshire and full time on the American Canadian Tour; collectively winning 18 races. Multiple wins even on the same night was a normal occurrence.
"It's been a strange year for sure, stated Helliwell". With everything going on, we're just happy to be racing at this point. Just felt like a normal race weekend to me… A lot of people came up to me and said the same thing, it felt like old times. Old times were pretty good to us… we'll take it".
Helliwell rode among the top three positions for much the race Sunday afternoon; when he saw an opening with 7-laps to go, he used what he had saved to pull to the inside of Polewarczyk, as they battled through lap traffic; from there he would go on to claim his first ACT victory at the speedway.
Starting the weekend off a little closer to home Saturday, the Team competed at Star Speedway, in support of his local partners. "It's always great to race near the house, most of the time we are 3-4 hours away, stated Helliwell. Many of our sponsors support Star [Speedway] and it's important we support them. The purse and the extra laps are just a bonus".
Helliwell rolled from the 11th starting position in the Little Webb's 75, methodically working his way to the front by lap-30. He never looked back from there, picking the first win the 2020 season.
"The car was great, we've worked really hard to find balance in it, stated Helliwell. It showed all weekend. We really have to thank all people and companies that stepped up to make the Star [Speedway] race happen".
Tyngsboro Motors, Fast Track Concessions, McKennedy Masonry, Body's by Kevin, Brian Healy Jr., Ken Izzet Construction, CHARLE Unthank, Little Webb's Tires, Fuel & Parts, Hedges Excavation, Trainer Motorsports, American Racer, Art Charter, DRP Products, Mangus Performance Products, Barry, Goldberg, A friend of Star, Crazy Horse Racing, and Marlin Communications.
Right now, the Bernhardt Motorsports Team are taking it week to week with their decisions. "We don't have plans right now, stated Helliwell. We need to talk about what we do next, whether it's the pro stock or late model...".
Next Event: TBD
Wayne Helliwell Jr. and Bernhardt Motorsport's would like to thank their proud partners: • EKeys-4-Cars • Unique Ford • Bernhardt Automotive • Pro-Turf Landscaping • DTB Tax • C&M Distributing • Galloway Fleet Service • IICCEEE • Ford Racing • Schoenfeld Headers • Sunoco Race Fuels • Bassett Wheels • Joes Racing Products • Tilton • AR Bodies • Welded Media • Mangus Racing Products • VDL Fuel Systems • PEM Racing Gears • KRC Power Steering • DRP Performance Products • Firestorm Graphics • Allstar Performance •
Follow Wayne:
https://www.waynehelliwelljr.com
https://www.facebook.com/WayneHelliwellJr/
https://twitter.com/#!/WayneHelliwell
---
Article Credit: Jason Lubin
Submitted By: Jason Lubin
Back to News