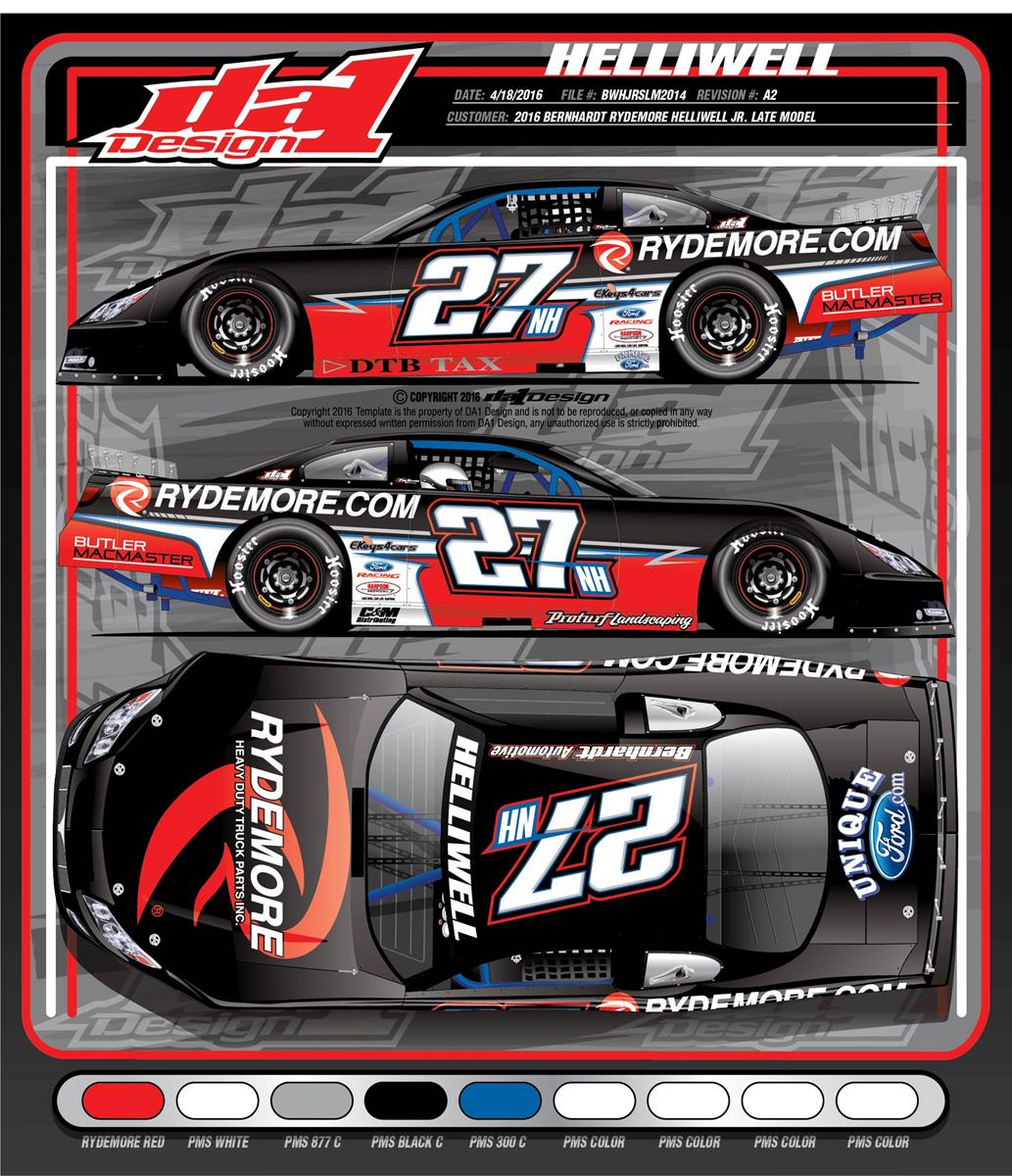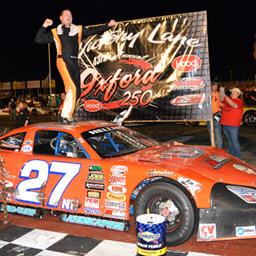 4/29/2016
Wayne Helliwell Jr
---
Rydemore Extends Partnership through the 2016 ACT Season
After a decade of orange the iconic color that has been synonymous with Wayne Helliwell Jr. and the Bruce Bernhardt Team, the remainder of 2016 will usher in a new era. After a successful two races, Rydemore Heavy Duty Trucks Parts Inc. has signed on as primary sponsor for the Bruce Bernhardt owned 27NH Ford Fusion.
The Fitchburg, MA online and print based truck parts recycler President Tim Pomerleau announcing Friday, Rydemore will join the Three-time American Canadian Tour Championship winning Team for the balance of the 2016 ACT season.
"This is our first venture into big time regional auto racing and we are fortunate to have a top tier team like Bruce and Wayne available to represent us," stated Pomerleau. "I know that many racers and race fans are involved in the transportation industry, and we hope to make Rydemore there go to source for many of their new, used and rebuilt part needs. We look forward to building a great relationship with the most brand-loyal sports fans in America."
Rydemore is one of the largest heavy duty used truck part recycling/re-manufacturing faculties in the country, with over 20-acres and 70,000 sqft of warehouse. They bring 40-years combined knowledge in the industry. They stock all major brands of quality used and rebuilt trucks, bodies and parts. Offering coast-to-coast service and exporting to more than 15-countries worldwide. www.Rydemore.com offers a one-stop-shop to purchase bumper-to-bumper parts for commercial class trucks 7-8, right online.
The familiar bright orange machine of Helliwell will sport a new Rydemore.com black and red look as the Team heads to the Annual season opening event at Thunder Road Speedbowl in Barre, VT this Sunday May 1st. The event will mark round three of the ACT schedule and Pelham, NH based Team looks to continue their early season success with new paint scheme and sponsor on board, after back-to-back top-5 finishes too start the year.
"We're really excited to have Rydemore on board full time," stated Helliwell. "Obviously the change in the look of the car is a big deal; bigger than people realize. Whether we like it or not we are known by that orange car. So to bring a new sponsor to the sport, and provide them with a platform of being recognized just by the look of the car is what brand awareness is all about… We worked really hard to provide them with a look that will grab people's attention and bring them to Rydemore.com. "
Helliwell's car owner echoed his driver's statement. "From a one race deal to this, is huge. We're really proud to bring a new company into this type of racing. They offer a service that fits the racer and race fans perfectly. Of the sponsors on the car the least amount of time someone has been with us is three-years. We hope this is just the start of a longtime partnership with a great company…" stated Bernhardt.
The new Rydemore.com Ford Fusion will be on display this Saturday April 30 for downtown Barre, Vermont American-Canadian Tour Car Show; where the new look will be unveiled at 9:00am; listen live on WDEV 96.5 radio for an interview with Helliwell about the Rydemore.com announcement .. The car show is followed by the traditional parade up Quarry Hill to the speedway at 12:00 noon.
For complete race times and information visit www.thunderroadspeedbowl.com. To find out more about Rydemore visit them online or contact the parts department from 8:00 AM – 6:00 PM, Monday through Friday, at 978-342-1100.
Next Event
What: The Merchants Bank 150
Where: Thunder Road Speedbowl, Barre, VT
When: Sunday May 1, 2016 2:00pm
Wayne Helliwell Jr. and Bernhardt Motorsport's would like to thank their proud partners: Rydemore.com • EKeys-4-Cars • Unique Ford • Bernhardt Automotive • Pro-Turf Landscaping • DTB Tax • C&M Distributing • Harpoon Brewery • Butler MacMaster Performance Racing • Spectro Performance Oils • IICCEEE • Ford Racing • Schoenfeld Headers • Sunoco Race Fuels • Bassett Wheels • Joes Racing Products • Quarter Master • ARP Bodies • Welded Media • Mangus Transmissions • Coastal Candle Company • VDL Fuel Systems • PEM Racing Gears • KRC Power Steering • DRP Performance Products • Firestorm Graphics • W.A.R Shocks • Allstar Performance
Follow Wayne:
https://www.waynehelliwelljr.com
https://www.facebook.com/WayneHelliwellJr
https://twitter.com/#!/WayneHelliwell
Follow Welded Media:
https://www.facebook.com/pages/Welded-Media/436955476374206
https://twitter.com/WeldedMedia
Da1 Designs Rendering
---
Submitted By: Jason Lubin
Back to News