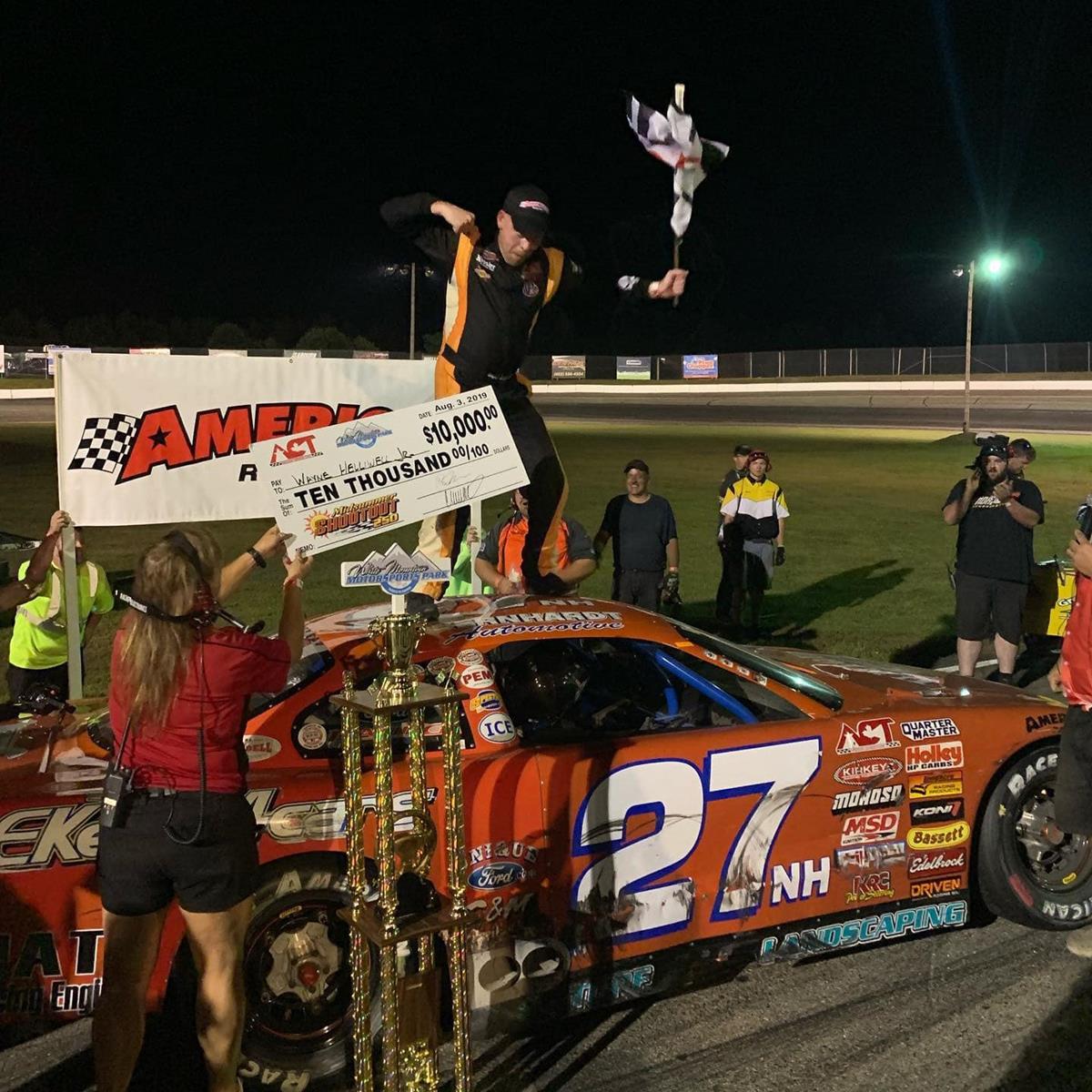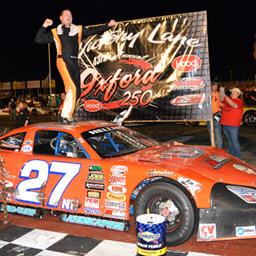 8/5/2019
Wayne Helliwell Jr
---
Defining Oneself
Feeling like oneself is defined as - "Back to one's normal physical health or mental disposition"; Wayne Helliwell Jr. sat in his car waiting to clear the scales in technical inspection. He had just been victorious in a 250-lap event almost three-years to the day since his triumphant win in the Oxford 250 back in 2016.
In that moment Helliwell's back to normal caught up with him. Series ACT Officials mentioned it was okay to get out of the car, cool off, get changed… As he exited the familiar bright orange Ekeys-4-Cars Ford Fusion, the feeling of uneasiness set in. He felt dizzy, hot and dehydrated some.
He asked for help to walk back to his hauler. Long time crew member Kurt Knight stepped in. They walked back to the Teams trailer laughing, Kurt with his own mobility issues. "We're all broken", Helliwell joked. "God forbid if we were all healthy…"
Before a ruckus and packed house at White Mountain Motorsports Park, Helliwell used a strategy of patience coupled with some luck to take a $10,000 payday back to Dover, NH in the 250-lap Mid-Summer Shootout.
"We were just riding there for the first half", stated Helliwell. "We also weren't that good to start… we battled tires sizes all day. We really didn't turn a nut on the car all afternoon, it had great speed. It was just stagger and sizing tires. I got pretty free during the first half there. Guys were beating the doors off each other after 50-laps; we just fell into a spot we felt good with."
Starting 15th on the grid, Helliwell maintained a running position of 8th to 12th for the first 170-laps of the long-distance event. With almost the entirety of the field pitting with 80-laps to go. Helliwell began to charge to the front with fresh tires on the car.
"You could tell the guys that had [wheel] bleeders", Helliwell stated. It would take about 10-laps for-some-of them to get going. I think that's why we were all so close at the end. The track is like ice on the bottom… guys were on different tire strategies and it made for some hard racing".
The hard racing playing into Helliwell's fortune, as leader Jimmy Hebert and second running Scott Payea got together with just four-laps remaining, sending both to the rear of the field. That set up a shootout with young gun Steven Donahue and the 27NH machine. Helliwell with the restart on the outside, wasted little time grabbing the top spot. He maintained the advantage on the Vermont racer to bring home the emotional victory.
"The top is really the place to be on restarts once the sun goes down", Helliwell stated. "I can't thank Steven enough for racing clean there… he could've ran right over me. I tried to leave plenty of room [under me] because I thought he would try to get me loose. We were both slipping and sliding".
A week after dominating the New Hampshire Governors Cup 150 at the ¼-mile oval Helliwell was finally on the positive side of good fortune.
"It's about time we had some luck", stated Helliwell. "We have had great cars this year only to have stupid things take us out. Between my health or broken parts, we haven't showed how good our cars have been. This is still our [chassis] program, it can take time for the hard work to show up, but when it does you see how the last two weeks have been…"
Sitting in the trailer, Helliwell found humility as the moment set in. He had just completed back-to-back long-distance races in consecutive weeks, parking-it in victory lane both times. "Life will humble you when you least expect," he stated. "I'm grateful for the support around me. This journey with my family… What Bruce has done; these guys show up each week not knowing what the night will bring... All our sponsors that have stuck with us. It makes you appreciate it that much more".
As has become the new normal for the 42-year driver, their next event will most likely be determined the day-of; as Helliwell looks to define his physical health week-to-week.
Next Event TBD
Wayne Helliwell Jr. and Bernhardt Motorsport's would like to thank their proud partners: • EKeys-4-Cars • Unique Ford • Bernhardt Automotive • Pro-Turf Landscaping • DTB Tax • C&M Distributing • Harpoon Brewery • Spectro Performance Oils • IICCEEE • Ford Racing • Schoenfeld Headers • Sunoco Race Fuels • Bassett Wheels • Joes Racing Products • Quarter Master • ARP Bodies • Welded Media • Mangus Racing Products • Coastal Candle Company • VDL Fuel Systems • PEM Racing Gears • KRC Power Steering • DRP Performance Products • Firestorm Graphics • Allstar Performance • Rouleau Racing Dynamics
Follow Wayne:
https://www.waynehelliwelljr.com
https://www.facebook.com/WayneHelliwellJr/
https://twitter.com/#!/WayneHelliwell
---
Article Credit: Jason Lubin
Submitted By: Jason Lubin
Article Media
Back to News