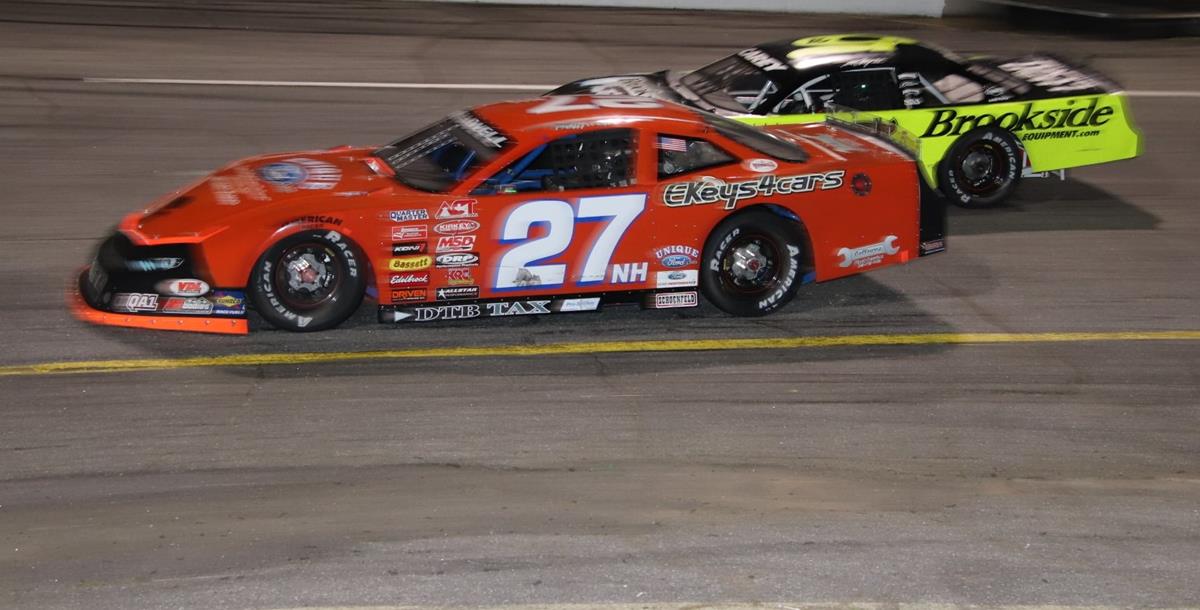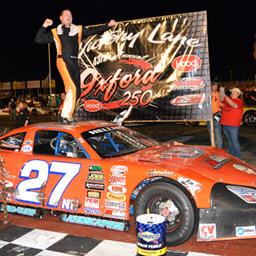 4/5/2021
Wayne Helliwell Jr
---
Right at Home!
Halfway through the second 125-lap American Canadian Tour event at the famed Hickory Motor Speedway, Dover, New Hampshire's Wayne Helliwell Jr. felt at home. The multiple-time series champion had already picked up a win on the historic track the night before. Saturday, he felt like he had been racing there for years.
"Anytime you can spend consecutive days at a track like that, it fits this Team," Helliwell stated. "I felt so comfortable… I think finding a rhythm and having so many laps from Thursday on really helping us fine-tune. It was strange, it reminded me of a track we raced all the time".
Helliwell who had just two other starts in super late model action at the North Carolina track before this weekend found his self-built chassis to be right at home scoring back-to-back wins in the Series first visit to the track.
"Those rough surfaces fit my driving [style]," Helliwell stated. It is really hard to be smooth and run a consistent line there. We focused on where the car needed to be instead of trying to make it run somewhere it didn't want to be. I tried to run where everyone else was and I couldn't. Saturday, we made small adjustments [throughout practice]. Just trying to fine-tune it across the bumps, focus on driving straight. What a difference that made, that was one of if not the best cars I've ever had. It would not give up, it just kept digging."
Friday night saw Helliwell, start on the pole and battle Mike Hopkins through lapped traffic to take the win, by leading all but two circuits for his 16th Series victory. Saturday, Helliwell had to come from the 10th starting position with the Ekeys-4-Cars, Ford Mustang.
He wasted little time as he picked off four cars in the first five laps. Grabbing second on lap-34 and snagged the lead nine laps later as Tom Carey III, hit two wide-lapped traffic. Carey tried to go high and as the 32-car of Jeff Marshall drove under Mike Kenison forcing Carey to the third groove. Helliwell filled the hole under them to take the lead. From there it was all the familiar bright orange 27NH car for his 17th Tour win.
"I'm so proud of this team and all the hard work we put in," stated Helliwell. "When this was announced, I told Bruce we are going… we didn't even talk about it. There is so much history there, you take that for granted when you are running around that place. I can't thank Bruce [Bernhardt], Randy [Potter], Greg [Dube] and Bret and Jake [Nelson] for all their hard work. To have my family [wife Jill, daughter Brooke] there was just a fun weekend".
The Pelham, NH-based Bruce Bernhardt-led Team is not sure when the next race will be. As they head into the Series opener undecided as the defending race winner at New Hampshire Motor Speedway.
"We haven't talked about," stated Helliwell. "We are just enjoying this weekend right now".
Next Event: TBD
Wayne Helliwell Jr. and Bernhardt Motorsport's would like to thank their proud partners: ***• EKeys-4-Cars • Unique Ford • Bernhardt Automotive • Northeast Sand & Gravel • Pro-Turf Landscaping • DTB Tax • C&M Distributing • Galloway Fleet Service • ICE • Ford Racing • Schoenfeld Headers • Sunoco Race Fuels • Bassett Wheels • Joes Racing Products • Tilton • AR Bodies • Welded Media • Mangus Racing Products • VDL Fuel Systems • PEM Racing Gears • KRC Power Steering • DRP Performance Products • Firestorm Graphics • Allstar Performance • Pro-System Brakes ***
Follow Wayne:
https://www.waynehelliwelljr.com
https://www.facebook.com/WayneHelliwellJr/
https://twitter.com/#!/WayneHelliwell
Photo by: Daniel Holben {PASS}
---
Article Credit: Jason Lubin
Submitted By: Jason Lubin
Article Media
Back to News